Event Date & Time
Event Description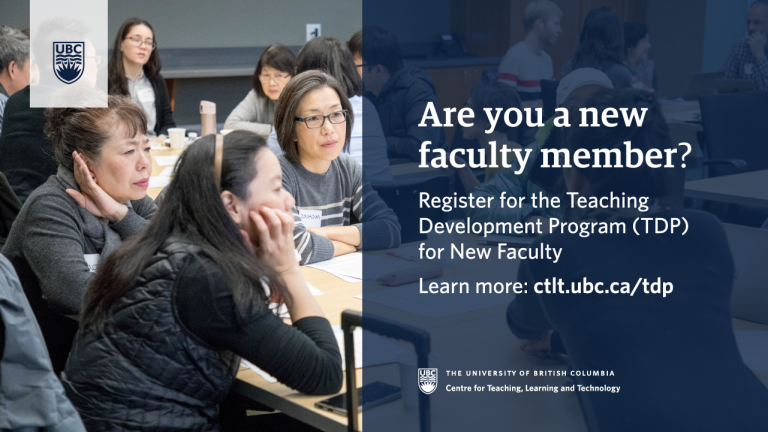 The Teaching Development Program (TDP) for New Faculty (TDP) is a 10-month faculty development program that recognizes and caters to the specific professional development needs of new faculty at UBC.
The Teaching Development Program (TDP) for New Faculty runs from August 2022-April 2023 and will help participants build a foundation for their teaching careers by providing a network of support around teaching and learning.
The intended audience is UBCV and UBCO faculty who are either:
New to teaching
New to teaching at UBC
Faculty members who have transitioned to a new appointment
Sessional faculty members
Note: For more information regarding the TDP eligibility and requirements please visit www.ctlt.ubc.ca/tdp. Review "Intended Audience" section.
---
Registration Requirements (the p

reliminary registration form)

When you apply for the program, you will be asked to submit a Letter of Intent. In the Letter of Intent (300 words max), we ask you to please include the following information (please clearly highlight the items below as headers in the document):
Disciplinary background
Teaching background
Broad goals for your teaching and student learning
2-3 concrete goals you have for the program
This is how the process works:
When you submit your online application, you will receive an automatic "Thank you for submitting the 2022 Teaching Development Program for New Faculty – Preliminary Application" notification in your email.
When you submit your application, it will be marked as 'pending review' and will be assigned to a TDP Consultant.
A TDP Consultant will then review the application and reach out to schedule a chat with you.
When your application has been accepted, you will receive an email notification between May-August 2022
Note: Rolling applications will be accepted until August 23rd, 2022.
Accepted applicants must be able to attend the following core elements:
August 23, 2022 9 am to 11 am – TDP 2022 Kick-Off Session – Virtual or face-to-face session [core element] – attendance compulsory
mid December 9th, 2022 – TDP Midpoint Checkin Session [core element] – attendance compulsory
late April 2023 – TBA –  TDP Capstone Session [core element] – attendance compulsory
If you have any questions or challenges with this registration form, please contact emily.renoe@ubc.ca or lucas.wright@ubc.ca