Event Date & Time
Event Description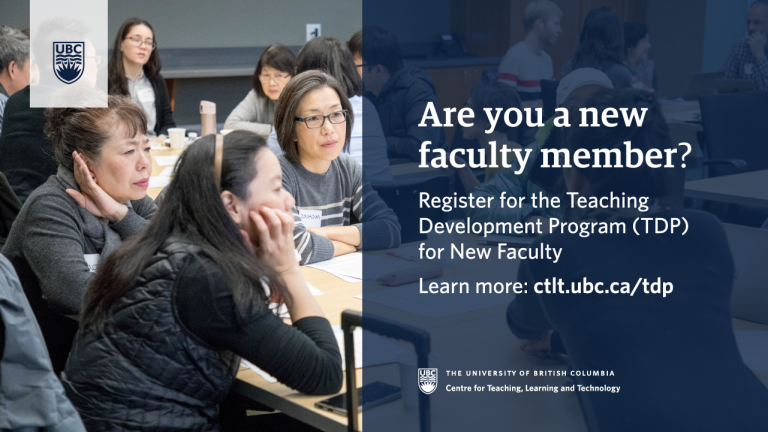 The Teaching Development Program (TDP) for New Faculty (TDP) is a 10-month long, faculty development program offered by the CTLT. The TDP for New Faculty runs from August 2021-April 2022 and will help participants build a foundation for their teaching careers by providing a network of support around teaching and learning. The intended audience is faculty who are either new to teaching, new to UBC or both. Note: Applicants must be teaching a credit course in the coming academic year.
The Teaching Development Program for New Faculty recognizes and caters to the specific professional development needs of new faculty at UBC. ***Please review the TDP for New Faculty Program details and requirements before applying. 
This is a
preliminary

registration form. This is how the process works:
When you submit your online application, you will receive an automatic "Status-Pending" notification to your email. (If you do not see it in your main INBOX, please check your JUNK box).
We then review your application and a TDP Consultant will reach out to you.
When your application has been accepted, you will receive a "Status-Accepted" email notification.
Note: We review applications on a daily basis. Rolling applications will be accepted until August 23rd, 2021.
Accepted applicants must be able to attend the following core elements:
August 26th, 2021 – TDP 2021 Kick-Off Session – Virtual Session [core element]
December 9th, 2021 – TBA – TDP Midpoint Checkin Session [core element]
April 2022 – TBA –  TDP Capstone Session [core element]
If you have any questions or challenges with this registration form, please contact emily.renoe@ubc.ca.
Please note: